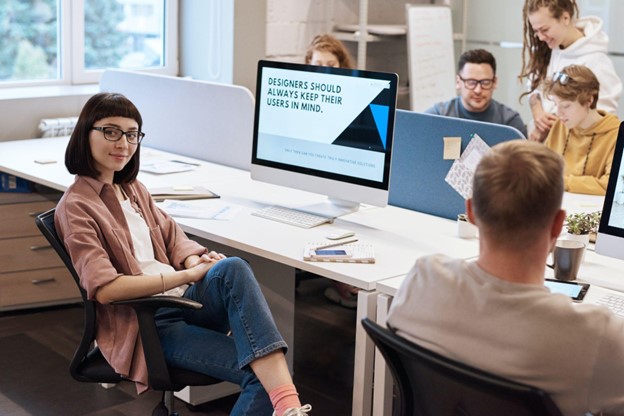 Working in a field where men have traditionally held or hold the majority of positions can be isolating and difficult for women, especially if they have ambition and want to advance. No matter how hard it is, women can work and do well in fields where men are more common.
In the United States, women make up 48.6% of the labor force but only 27% of the science, technology, engineering, and math (STEM) workforce, according to the United States Census Bureau. Women over 35 have a 3.5 times higher likelihood of holding a junior position in the tech sector.
Although women are still very underrepresented in the STEM workforce, some gains have been made.  On this note, we'll turn our attention to some tips that can help women succeed in male-dominated fields and highlight some outstanding women in the drafting and design arena. 
Here Are Those Tips to Help Women Succeed in
Male-Dominated Fields.
Be Confident
You might not want to say what you think, feel, or want because you are in the minority. Speak up and don't be afraid to make your voice heard instead of being silent. If you don't, you won't be recognized, which will make it more difficult for both your supervisors and your coworkers to remember you. This does not require you to act impolitely. It simply involves sharing your thoughts, expressing your preferences, and voicing your opinions when projects are assigned.
Trust your Abilities
Keep in mind that you are here because you possess the ability to perform your job. Some of your coworkers might be at the same level as you, while others might have a few more years of experience. There is no reason to question your ability to succeed as long as you continue to learn and hone your craft.
Own the Career you've Chosen
Women who work in traditionally male-dominated fields sometimes get mistaken for partners or assistants, especially at conferences and meetings. You may boldly describe what you do and how long you've been in the field when you own your job choice. You'd be astonished at how much a little self-assurance may change how other people perceive you.
Gain Conflict Management Skills
Conflicts are inevitable. Be upbeat and consider a solution rather than wallowing in who is right and who is wrong. While you should refrain from attacking your coworkers, you should also resist allowing others to do so or being intimidated into giving in just because you are outnumbered.
Show Your Support for Your Coworkers
Sometimes it works best to set an example. In other words, if you want help and friendship, be ready and willing to provide it to them. This advice is even more important if there are other women working for the same organization.
Never Stop Learning New Things
Last but not least, keep developing your craft and skills. This will not only help you master your trade, but it will also increase your self-confidence and present you with fresh opportunities in your field. Always be eager and passionate to learn new things while you are in the field.
Women in Computer-Aided Design and Drafting
Have you ever wondered just what goes into making a building or a car? Despite the fact that there are hundreds of parts, everything started with a plan, a design, and most likely a person sitting in front of a computer using CAD software. The use of software to sketch and create physical components or to set out processes is known as computer-aided drafting and design, or CADD. It plays a significant role in a variety of industries, including engineering and architecture, because it offers detailed instructions on how things should be constructed.
In honor of International Women's Month, let's talk about the role of working women in drafting and design. Despite the fact that there are fewer amazing women than there are men in CADD-related positions, there are still many of them. We have had some of the most influential women in engineering history, and many of them, like Mary Barra, Manuelle Gautrand, Julia Barfield, Zaha Hadid, and Patricia Goforth, are still at the forefront of the CADD industry.
We also want to give a shout-out to one of our own CADD and Revit for Building Information Modeling (BIM) instructors – Sandra Bowden. She is not only a senior architectural designer but is a project manager and also has network administration (IT) skills. No wonder she has a reputation for "making students dangerous" among those who complete her classes.  
Even though there are fewer women employed in the CADD related careers, there are still many strong female designers, drafters, and managers. Everyone with the talent and a positive mental attitude can excel in the CADD-related careers, regardless of their gender or other characteristics.
Key Takeaways
Working in fields or a workplace, where women are in the minority can be challenging. However, numerous studies have shown that equity for all in the workplace greatly benefits all aspects of our lives. Equality in the workplace is not just a problem for women. It is an issue that men also need to address because it impacts all areas of our society.
We at RW2 Career and Technical Education strongly encourage women to consider the benefits of and to step up to get the knowledge and skills to participate and thrive in the technically skilled workforce. We think that, even in fields where men predominate, gender is not a barrier to achieving your dream career. What's more, the programs we offer including Computer-Aided Drafting and Design (CADD), Revit for BIM, and Cybersecurity, have in part been selected because of the parity in pay for women. 
Women, if you're ready? We're ready and committed to helping you!  Join us now and register today! Classes start April 17.
#womenempowerment #caddesign #revitbim  #shetoo #shetoostem #womenhistorymonth