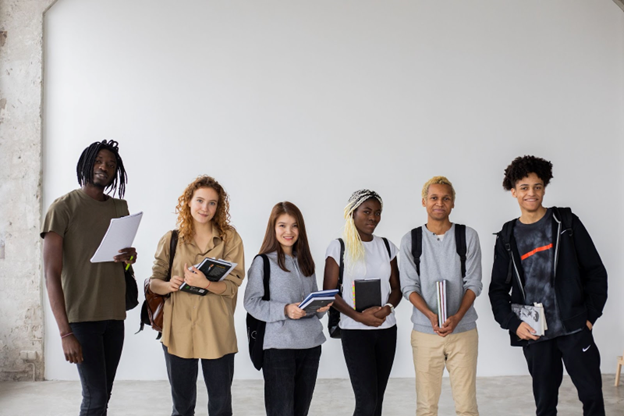 This month of February, we celebrate Career and Technical Education (CTE) Month, which is an annual celebration of all the CTE partners and professionals. During this month, we are not only spreading the word about how important CTE is to the economic success of the country, but we are also sharing stories of leadership and excellence from students and teachers all over the country.
CTE Month takes place every February as a public awareness campaign to honor and celebrate the value of CTE and the accomplishments and achievements of CTE programs all over the country. As we all know, CTE offers hands-on training to students, and these skills can be applied to the real-world career pathways. CTE programs also prepare students for high-demand careers in fields like IT, architecture, engineering, and construction (AEC), advanced manufacturing, health care, management, hospitality, and many more. CTE Month is led by different CTE groups, hosted by the Association for Career and Technical Education (ACTE), and organized around a different theme each year.
CTE Month highlights the benefits of career and technical education. The goal of the celebration is to educate students and the community about CTE and how it prepares students for high-demand, high-wage jobs, and careers.
Why is it Important to Celebrate Career and Technical Education Programs?
CTE month has arrived! And this month will again be packed with recognitions and events for all the amazing work happening in our career and technical education programs across the country. CTE is an educational model that can be found in many schools and focuses on providing students with the knowledge, skills, and other necessary pieces of training to prepare them for their future careers.
But why do we need to celebrate CTE programs? That is because CTE programs are a valuable part of every school. Its programs offer several advantages not just to the students or school but also to society.
Have a look at these proven benefits of CTE programs below.         
Exploration of Potential Career Paths
Traditionally, the education system is established to teach students about important topics like math, science, and history. Unfortunately, a lot of students leave high school without any idea how those topics are applied or how they will translate into career opportunities. Some students in bachelor's degree programs change their majors once or multiple times. The main reason for this is the lack of hands-on career exploration opportunities. Without career-focused education, they will not have a clear vision of what a future job is like. 
However, career and technical education programs are designed to provide students with hands-on experience with the end goal of landing a job in mind. CTE programs help students realize the path they might want to pursue before spending a lot of time and money on careers they end up not loving.
Improvement of Career Capabilities
Unlike traditional academic classrooms that focus on theory and knowledge, CTE has eyes on true skills training. Students don't just learn about things; they will also be taught how to do them as well.
Learning technical skills is a key part of career preparation. These are the real work skills in any job, such as taking measurements, using tools, handling materials, and others. Knowing how to do these things from a book is good, but it takes a lot of practice and workshops to master them. Aside from teaching hard skills or technical skills, the CTE program also does a wonderful job of teaching soft skills or career readiness skills. Soft skills include time management, work ethic, problem-solving, teamwork, and others. Having these traits are essential assets in life and in the workforce.
Certifications and Credentials in the Industry
Aside from learning very valuable skills, CTE students can earn industry-recognized credentials and certifications from their courses. These credentials and certifications show verification of skills training so that future employers can look at the achievements and get a glimpse of the talent and experience someone has.
Some graduates don't have enough career training or experience when entering the workforce. But by obtaining credentials through CTE, they can gain a competitive advantage and a better job position. 
Connections to Future Education
Career and technical education programs provide students with the skills and knowledge they need but note that they are sometimes not the last stop on their educational journey. Most students who took CTE programs in high school proceed to bachelor's or associate degree programs, apprenticeships, industry training programs, and many more. 
CTE does not only give a great education; it also acts as a bridge to the student's next stage of higher education. It will open more doors and give people more chances, as well as make the workforce more skilled and experienced.
With the many benefits of CTE programs, it is part of the solution to many problems, and celebrating it annually gives CTE the respect and support it deserves.
 How Can You Get Involved in Celebrating CTE Month?
Every February of the year, educators, administrators, and students celebrate CTE month to raise awareness about CTE programs. A key part of celebrating CTE month is to know and share information about what CTE means and how it can help students achieve their dreams. This is why RW2 Career and Technical Education (RW2) is sharing information and encouraging students to take advantage of scholarships for CAD or Revit for BIM classes or tuition discounts for those who pre-register this month but are not scholarship eligible.
Another way is inviting visitors to witness a CTE program. Visits can increase awareness about CTE and provide students with a first-hand experience and have their questions answered. RW2 offers online and in-person class visits. Arrangements can be made by simply emailing us at rw2.cte@rw2.education.
Social media is also a great outlet to spread the word about CTE month and why it is celebrated. It is one of the easiest and most powerful ways to make an impact. Various facts and information about the benefits of CTE programs can be shared on social media, e.g., #careerchanger #cybersecurity #training #cad. Finding related groups, pages, and hashtags will allow you to connect with others in the CTE community and intensify your reach.
Start celebrating CTE month today!